Witness
He loves us and we love EVERYONE!
Let your light shine before others, so that they may see your good works and give glory to your Father who is in heaven. Matthew 5:16
Service to others is a highlight of the Christian life. Consider joining us in this privilege.
Some of our present opportunities include:
Faith and Work Enterprises/Pennsylvania Ave Chocolates in West Baltimore
Faith and Work is an innovative, holistic job readiness program helping men gain transferable workforce skills and invaluable hands-on experience, which allows them to secure meaningful work and move forward in building healthy lives and communities.
Vacation Bible School
Every summer Emmanuel has over 100 children and volunteers for a week of fun and excitement with Jesus. This is an especially popular service opportunity for youth in grades 7-12.
Johnnycake Elementary School
At Thanksgiving and Christmas, we provide food and/or gifts to be given to families in need at our local elementary school.
Lazarus Caucus/Westside Homeless Shelter
In addition to members who volunteer, Emmanuel houses the clothing closet for the men at the shelter.
Comfort Dog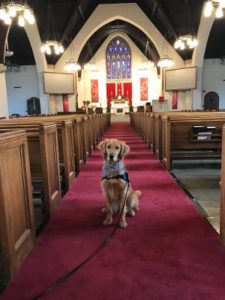 Kezia, Emmanuel's Comfort Dog, is a Golden Retriever that has had over 2000 hours of training to assist in providing mercy, compassion, presence, and proclamation of Jesus to those who our suffering and in need. Her calming influence helps those she meets enabling them to share their feelings whether good or bad. The Kezia Comfort Dog team is very busy making regular visits to nursing homes, the VA hospital, schools, Emmanuel's shut ins, the Lutheran Immigration office, and the Lutheran Compassion Center in Fells Point. Her Bible verse summarizes quite well what she is all about. It's from Isaiah chapter 58 verse 11.
The Lord will guide you continually giving you water when you are dry and renewing your strength. You will be like a well-watered garden, like and ever flowing stream.
If you would like a visit with Kezia, please contact the church. You can also watch what she has been up to on the Emmanuel's website, her Facebook page, or on You Tube. If you wish to donate to the Kezia Comfort Dog Ministry, you may mail your check to the church or donate on Emmanuel's website.
Evangelistic Outreach
You'd be amazed how many people hunger to have real conversations about Jesus. Feel free to join our assistant pastor, Rev. Falak Robson, as he weekly spends time at local colleges and business simply having conversations with people who want to talk about Christ.