Serve
Vacation Bible School
Every summer Emmanuel has over 100 children and volunteers for a week of fun and excitement with Jesus. This is an especially popular service opportunity for youth in grades 7-12.
Emmanuel Lutheran School
Emmanuel Lutheran School is a dynamic educational environment for students in kindergarten through eighth grade. While we began educating children in 1956, we have continued to adapt to the latest in technology and education to nurture children in a Christ-centered environment regardless of background, ability, or ethnicity. We are passionate about providing children with a positive, enriching environment where their dreams can take flight and their potential can be fully realized.
Volunteers help in the library, the lunch room, and some classrooms throughout the year. Find out more about our school at www.elsbaltimore.org.
Worship Service
There are always numerous ways to serve in worship including as: usher, reader, musician, cantor, choir member, communion assistant, acolyte, crucifer, altar guild, audio/visual engineer, and more. Contact the pastor directly if interested in the possibility of using your gifts for the benefit of the worshiping community.
Children/Youth
On Sundays at 9am, children and youth meet in age groups to grow in God's word and in fellowship with each other. Teachers and youth leaders are a true blessing to the young people of our congregation.
Inner City Mission
Faith and Work Enterprises is dedicated to standing with our local communities to build capacity for meaningful work and holistic well-being. Emmanuel Lutheran Church partners with this innovative job readiness program aimed at helping young men gain transferable workforce skills and hands-on experience so that they can build healthy, strong lives, families, and communities.
Faith and Work is an innovative, holistic job readiness program helping men gain transferable workforce skills and invaluable hands-on experience, which allows them to secure meaningful work and move forward in building healthy lives and communities.
Evangelistic Outreach
You'd be amazed how many people hunger to have real conversations about Jesus. Feel free to join our assistant pastor, Rev. Falak Robson, as he weekly spends time at local colleges and business simply having conversations with people who want to talk about Christ.
Comfort Dog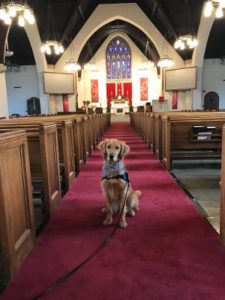 Kezia, Emmanuel's Comfort Dog, is a Golden Retriever that has had over 2000 hours of training to assist in providing mercy, compassion, presence, and proclamation of Jesus to those who our suffering and in need. Her calming influence helps those she meets enabling them to share their feelings whether good or bad. The Kezia Comfort Dog team is very busy making regular visits to nursing homes, the VA hospital, schools, Emmanuel's shut ins, the Lutheran Immigration office, and the Lutheran Compassion Center in Fells Point. Her Bible verse summarizes quite well what she is all about. It's from Isaiah chapter 58 verse 11.
The Lord will guide you continually giving you water when you are dry and renewing your strength. You will be like a well-watered garden, like and ever flowing stream.
If you would like a visit with Kezia, please contact the church. You can also watch what she has been up to on the Emmanuel's website, her Facebook page, or on You Tube. If you wish to donate to the Kezia Comfort Dog Ministry, you may mail your check to the church or donate on Emmanuel's website.
We are looking forward to our own comfort dog in order to use the unique, calming nature and skills of a purebred golden retriever as a bridge for compassionate ministry.
Lazarus Caucus/Westside Homeless Shelter
In addition to members who volunteer, Emmanuel houses the clothing closet for the men at the shelter.
Johnnycake Elementary School
At Thanksgiving and Christmas, we provide food and/or gifts to be given to families in need at our local elementary school.